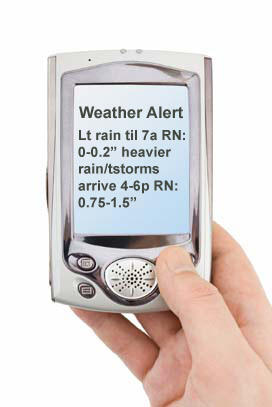 The Next Generation of Wireless Weather Alerts is Here.
A+ Weather Alerts bring you the proven accuracy and reliability of Weather or Not's award winning team of dedicated meteorologists.
With just a few clicks, you can tailor A+ Weather Alerts to fit your unique situation. You choose when, where and how A+ Weather works for you with exclusive features including map my location and Do Not Disturb.
Easily manage a group of 1 to 100 by enabling instant weather notifications for multiple locations around the clock.
A+ Weather Alerts are superior to traditional wireless weather services and computer generated forecasts. The difference is our meteorologists.
Accurate, Affordable and All About You
Put your business on our radar